The options just keep coming! This weekend sees another alternative head for the Core Dragon and Core Wyvern released, giving you more control than ever over the look of your avatar with just a few simple clicks. Could this one be the head for you? Take a look and see!
Drawing on another natural animal form for inspiration, this week's head is inspired by those most infamous real-life reptiles… Snakes. Possibly associated with western dragons during the middle ages due to their biblical association with evil, the snake has influenced our imaginings of dragons a great deal. Lean into that heritage with this new serpent-inspired head!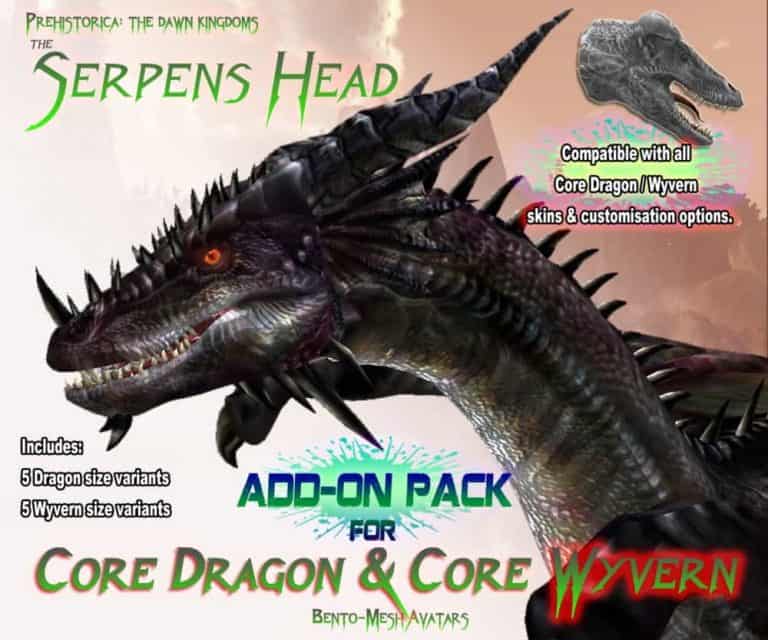 Dragons have been referred to throughout history as great "serpents" and this head design leans into that kinship with snakes.
The smooth, rounded profile, with a snake-like wide jaw and curved lip-line, offers a svelte look for your dragon or wyvern's head.
Pair it with a crawling stance to stay snake-like and low to the ground, or a bipedal stance to emphasise that long, majestic neckline. Or use it any other way that you think looks good!
Take a look at the new head in action:
Don't forget that you need to be using the most recent update to the Core Dragon/Core Wyvern avatars from the start of April for these heads to look their best. 
If you're a modder and you haven't already downloaded the updated mod kit from the beginning of April, you can do that on our Downloads page. Unless you've made close-fitting accessories for these avatars' necks, you can rest assured that your existing mods are still compatible, but it pays to stay up to date!
The Line-Up So Far... One More to Go!
Be sure to check in next weekend for the final – and possibly the best! – alternate dragon head.
UPDATE: All the heads have now been released!
Take your pick of all four alternative heads for the Core Dragon & Wyvern at the in-world store or on Marketplace. Click the buttons below to find out more about each head on the Marketplace listing!
Enjoy your even-more-personalised avatars!