April is going out with a bang! Take a look at our final – and possibly favourite – alternative head release in this month's add-on extravaganza. It's got a lean, mean silhouette with a jawline to die for. Meet the Zephyr head!
Is it just me, or does this head look a little more cunning than the others? Its pointed chin adds a spiky angularity, perhaps a little bit reminiscent of a goatee… The sharply tapering brow line also adds a note of intelligence, in my humble opinion. Morally ambiguous wizards, anyone?
On the other hand, its snub nose can look remarkably cute paired with large eyes, brighter colours, and juvenile proportions – see the image gallery below! What do you think?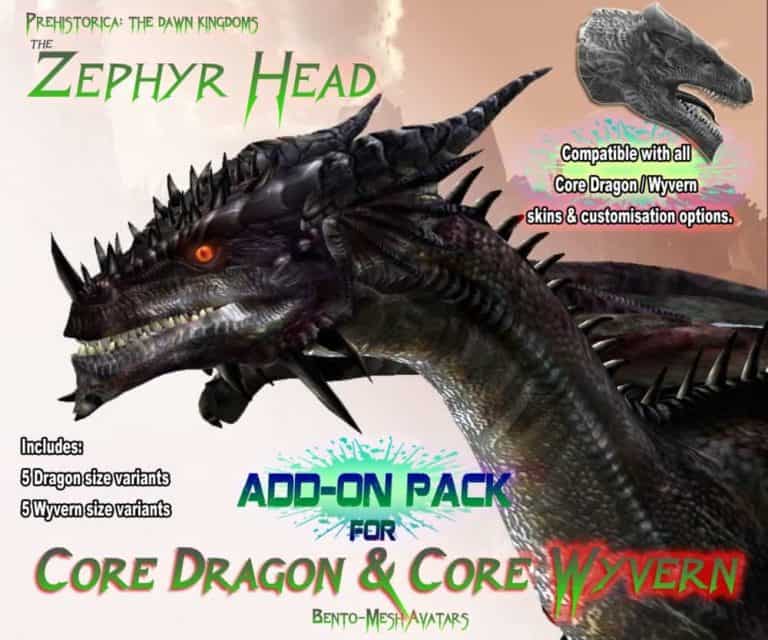 This head is a work of pure fantasy art, combining a sharply tapering snout with an extended pointed chin to complete the silhouette.
Its eyes appear more forward-facing, suggesting a more human-like intelligence… or perhaps a more predatory personality.
The brow line leads naturally into all manner of horns and head-fins on this sleek and streamlined alt head.
Check out the pictures below to see it in action!
Don't forget that you need to be using the most recent update to the Core Dragon/Core Wyvern avatars from the start of April for these heads to look their best. 
If you're a modder and you haven't already downloaded the updated mod kit from the beginning of April, you can do that on our Downloads page. Unless you've made close-fitting accessories for these avatars' necks, you can rest assured that your existing mods are still compatible, but it pays to stay up to date!
All the heads have now been released!
Take your pick of all four alternative heads for the Core Dragon & Wyvern at the in-world store or on Marketplace. Check out our previous posts, or click the buttons below to find out more about each head on the Marketplace listing:
Now that you've seen them all, which is your favourite alternative head? Which can you best picture your dragon or wyvern wearing? Or do you plan to collect them all to suit your current mood or character? Let us know in the comments below!
As always, we hope you're loving your avatars. See you at next announcement!