Fantasy Faire is back, and it's better than ever. This year's builds are stunning, so if you haven't already been to check it all out, you simply must go! From a snowbound steampunk dystopia to an underwater classical metropolis; from elven cottages to a psychedelic toy factory; from mystical planetariums to a haunted bog, there is an incredible amount to see and enjoy.
We've also got a treat in store for you at our little corner of the Faire, so step out into the wilderness and visit the Spirit Valley of Kuruk. Explore the village and caves belonging to the bear clan, and discover our cosy home-away-from-home nestled in the cliff face of this wild land. There you'll find this year's charity exclusive… Animesh rideable dinosaurs!
Update: We've now also contributed to the Quest Prize Pool! Anyone who completes this year's Fairelands Quest will get another exclusive animesh treat from us… for free! See below to find out more…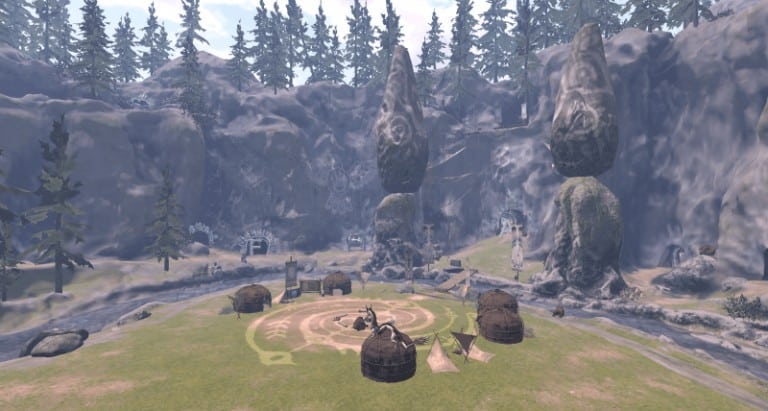 This year we've made our home in the Native American-inspired area of Spirit Valley Kuruk. Inhabited by a clan of sentient bears, this piece of land has plenty of little secrets to uncover. Learn its story as you explore…
Visit the magical village, where you can find a bear preparing food in wooden bowls, discover the chief's cave, or even find the bears that will allow you to ride them!
It's an interesting spot, and well worth a visit.
Tucked into a rough-hewn cave in the cliff face is our stall. See if you can spot the dinosaur footprints leading into it on the floor!
Inside the door are our little animesh greeters that so many of you were asking about during Hullabazoo. Say hello!
The greeters aren't the main attraction, though… Turn to your left or right inside and you'll see! Rearing their proud heads in front of their charity vendors, two animesh rideable dinosaurs!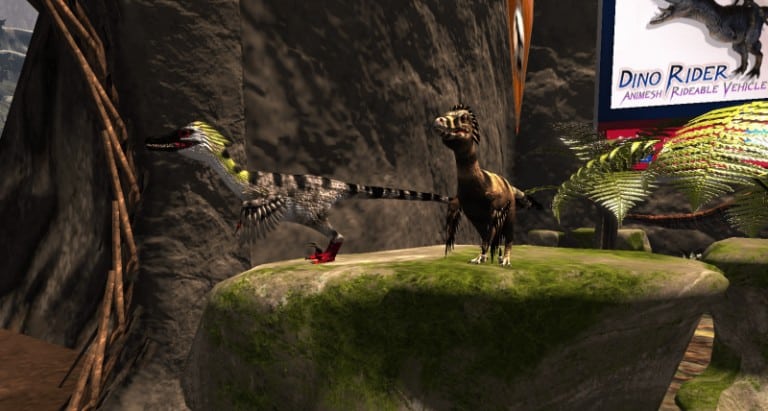 I know you're wondering – which species are they? We've chosen a classic pairing: Iguanodon and Carnotaurus! So whether you want a placid beast of burden for trundling through the market square, or a fearsome mount to chase down prey or part the crowds before you, there's a rideable dinosaur for you. Have a sneak peek: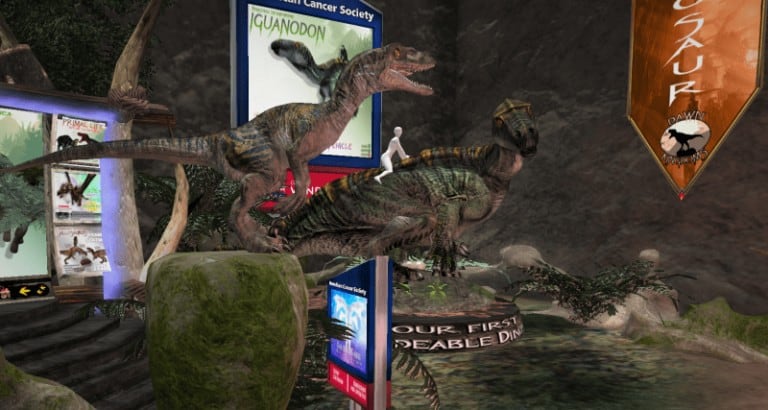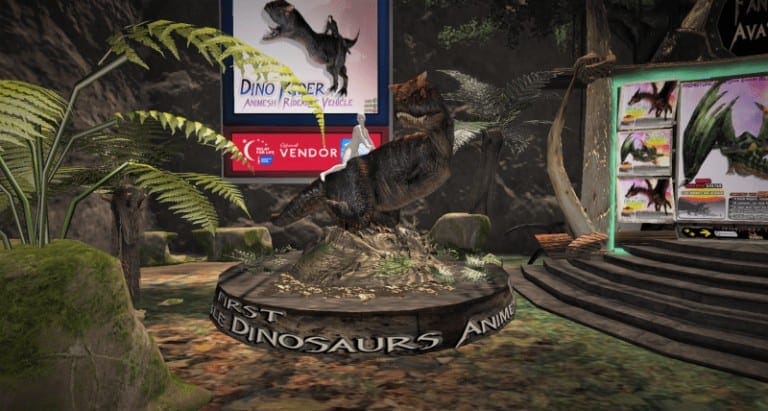 They come with natural-looking animations and appropriate sounds, including a left-click-to-roar that plays one of multiple randomised call animations, complete with synced-up sound. Announce your presence in style!
For moving around, expect walking, running, jumping, and smooth turning animations, all activated by your movement controls. If you're familiar with our most recent bento avatars, then you'll know the kind of naturalistic motion to expect.
Ready to hop on your dinosaur to tour around Fantasy Faire? It's simple to get started. Just rez your rideable dinosaur on the ground, then sit on it to ride. Easy!
And of course, don't forget that every Linden from the purchase of these rideable dinosaurs goes to charity to help fight cancer. Buy a rideable, tell your friends, and let's help make this the biggest fundraising year for Fantasy Faire yet!
I had a great time exploring the Spirit Valley of Kuruk on the back of my Carnotaurus. The bears didn't seem too fazed by us! They're made of stern stuff.
If you haven't already visited, now's the time! Use the links below to get the landmarks for Fantasy Faire and the Spirit Valley of Kuruk:
Or if you want to jump directly into the Dawn Kingdoms cave, you can find that here:
What about that Quest prize?
If you'd rather have a pet than a mount, you're in luck! Conquerors of this year's Fairelands Quest will receive a pet animesh raptor, which will loyally follow your avatar wherever you go.
This raptor attaches to your avatar centre and walks, runs, turns, and jumps with you. Left-click while attached to play a random roar!
Want to join in the Quest? Pick up a Quest HUD at the landing point of any Faireland – including the Spirit Valley of Kuruk – and away you go! Learn more here.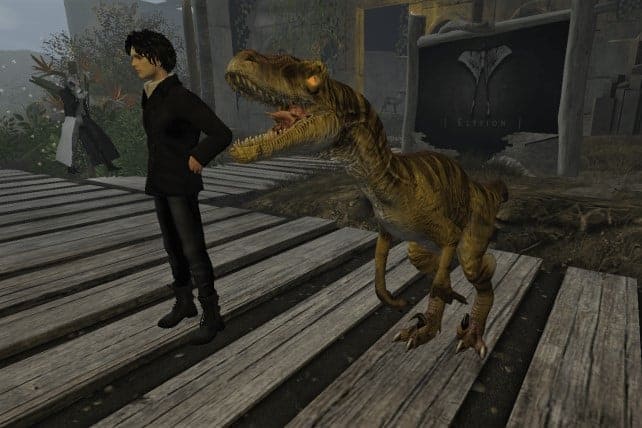 Fantasy Faire is open until the end of May 10th, so make sure you check it out before then!